If you know anyone from the Okeson, Eklund, Richardson, Schlottman, Torgerson, or Thompson families from North Dakota or Oregon, please help identify these photographs!


Q. Who are you?
A. I am Greg Okeson and this is my web site.

Here are links to some of the most recent places that I have worked and studied.
Iron Horse Resort
New Horizons
Keller Graduate School of Management
Winter Park Resort
Snow Creek Ski & Board Area
Cerner Corporation
Electronic Data Systems
University of North Dakota
UND Bookstore Computer Department
UND Computer Learning Lab
Scott &amp White
Baylor University
Casey Computer Center
Sam Houston State University
Q. How do you pronounce your last name?
A. I generally pronounce it oh(stressed)-ka-son, although I don't get terribly offended at oh(stressed)-key-son, oh(stressed)-kay-son, or oh-kay(stressed)-son. Somehow, people get the impression that there is an R, N, or A in there, even though there isn't, so oak-son, oh-ker-son, oak-en-son, oh-ken-son, and other variations are incorrect, even if I have learned to respond to any of them. Believe me, these are the most common errors with my name, and I have omitted the more bizarre. The name is generally regarded as having Swedish roots, not Japanese, no matter how fun it is to use that accent. Irish is also fun (i.e. O'Keson).
Q. How can I get around this site to learn more about you?
A. By clicking here to get to the main page or on the picture of me near the bottom of each page, you will get to the main page from which you can reach different areas of some of my interests. Some of my interests include alpine skiing, snowboarding, biking, reading, writing, computers, and traveling.
Q. Are there any sites that you have had a hand in developing?
A. I did this site, of course, including the art type photoshop pictures in the index pages, and designed and/or consulted on the following sites:
Unvarnished truth college hockey web site

UND Campus Crusade for Christ site
Unofficial Not Easily Broken page
my old UND page
Shred Ed
Q. Were you in Grand Forks, North Dakota when the Red River flooded the town in 1997?
A. Yes, and I have created a page about that experience, so feel free to check it out.
Q. What do you think about Java?
A. Hmmm, you better
click and find out [105K]
Q. Do you know anyone who actually has a webpage?
A. Yeah, here are a few:
Andrew
Holly
Larry and Eli
Q. Do you follow any kind of philosophy or religion?
A. I'm a Christian, thanks for asking, and I like these organizations:
Christian Research Institute
Ligonier Minstries
Compassion International
Q. So, what's the deal with Godzilla?
A. Well, the deal with Godzilla is that he is a huge, nuclear powered, fire-breathing, fictional monster. Find out more about Godzilla at these sites:
Kabal's Godzilla Page
B's Page of Godzilla



Netscape's Mozilla bears a striking resemblance to Godzilla, eh?
Q. Are you a drummer?
A. I am a drummer and I would like to eventually put up a page about it, but until then here are some links that interest me:

Q. Got a different kind of link?
A. Yes, I think I do. Try this.
Q. Since you are obviously passing off some questions on this list as an excuse to list links, do you have any miscellaneous links that don't fit under any of the other phony questions?
A. Well, since you asked so nicely, here you go:
my hoaxes and links page
my skiing page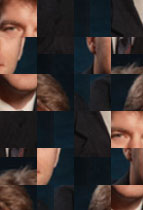 This URL is https://okeson.tripod.com/faq.htm
Author: Gregory Okeson
This page was last updated June 20th, 2008.
This page has been accessed
times.
---
If you're close to Temple, Texas, drop by Gandy's Barber Shop and get a hair cut from Phil. He does quality work and will also make hospital and house calls by appointment.